IDEA TO PROTECT TO PRODUCT
Voyagerx a top utility app startup in Korea is visiting the UoH campus to interact with the students as part of the Campus Engagement Program. The students also get an opportunity to become paid interns, and student ambassadors to the company as the Voyagerx (vFlat) team has focused on the Indian market and evaluating setting up a team/office in India.
The event is on 27th July from 3 PM onwards at Seminar hall, School of Life Sciences, University of Hyderabad
Visit of Dr. Thirumalachari Ramasami, Former Secretary, DST to ASPIRE
It's a great fortune for us to have visited ASPIRE-BioNEST, Padma Bhushan Shri Dr.Thirumalachari Ramasami, Former Secretary, Department of Science and Technology. Team BioNEST had a fortune of interacting with him and his visionary inputs are precious and invaluable. He enjoyed interacting with some of our start-ups and knowing about their technologies. Such an energetic and inspirational scientist!! it's an honour to have you with us sir.
ASPIRE Foundation Day celebrated
Chandrasekhar Srivari, Secretary, DST, Government of India inaugurated a new TBI facility.
Dr Krishna M Ella, CMD of Bharat Biotech International Limited delivers the ASPIRE foundation day lecture.
Chintan Vaishnav, Mission Director, Atal Innovation Mission, Niti Aayog delivered a special lecture.
Basuthkar Rao(B J Rao), Vice-Chancellor of the University of Hyderabad, ASPIRE foundation day opening remarks.
A few products developed by the ASPIRE start-ups were also launched. Grus & Grade Private Limited an Agri Tech company with a focus to bring in complete traceability in Agri value chain, 30M Genomics is started with the vision of making genetic diagnostics more affordable and accessible, @UR Advanced Therapeutics a pioneer in the development of highly sensitive custom-designed Tagged molecular probes for the diagnosis of cancer, infectious and non-infectious diseases. Transcell Oncologics Private Limited developed NeuroSAFE by combining Human-Induced Pluripotent Stem Cell Technology with Robotic Process Automation digital platform impregnated with AI and ML tools.
The program was attended by several dignitaries from the nearby institutes, CEOs and staff coordinators and staff of the ASPIRE incubation centers, faculty and staff of the University of Hyderabad, and nearby scientific organizations. Association for Scientific Pursuits in Innovative Research Enterprises (ASPIRE).
TEC-ASPIRE Innovation Café Expert Talk Series

"Bench to Bedside – Connecting Science, Research, Diet & Consumer Health"
by Dr. Veeera Reddy K
(Founder, YoungAged Health., Past: Director in major US firms such as Kindex Therapeutics, Metagenics Inc, USA)
Heads-on Workshop on Chromatography Techniques

This workshop is aimed to provide hands-on training to the students/scholars/faculty in the academic institutions and those working in the pharma and biopharma industries. It provides hands-on experience of working on chromatographic equipment and its applications/challenges.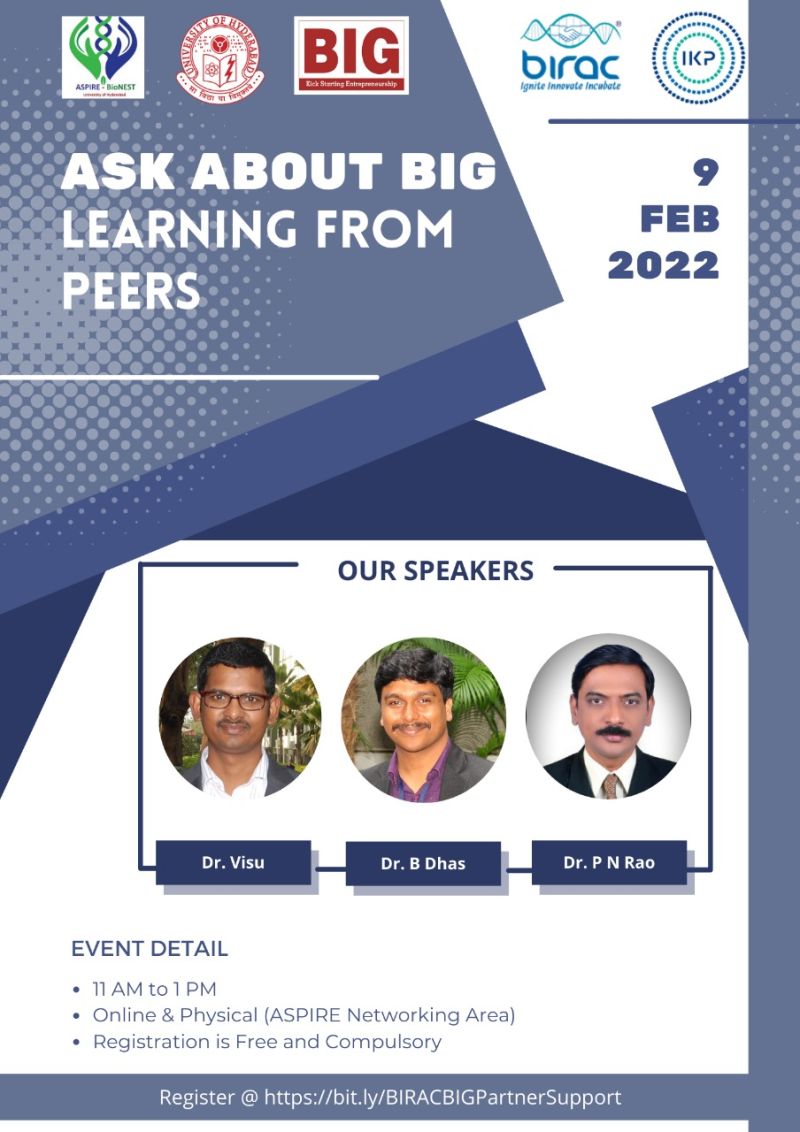 Webinar on ASK ABOUT BIG LEARNING FROM PEERS
ASPIRE BioNEST, Associate BIG Partner of Biotechnology Industry Research Assistance Council (BIRAC), BIG Program along with IKP Knowledge Park, BIG Partner is glad to provide a platform for Aspiring applicants of BIG Grant to interact with our successful BIG grantees. Dr.Visu will be available physically at the meeting and all the BIG aspirants can interact with him to know more about the application process. This is a Hybrid Event – Online and Physical at ASPIRE Networking Area, 9th Feb 2022, 11am-1pm. Registration Compulsory. The registered candidates will receive further details.
Open for all areas / Preference may given to "Waste to Wealth"
Participation of TEAMS is encouraged over individuals over shortlisted applicants will be called for pitch deck to the expert committee.
Open only for UoH Community & Alumni
Communicate a detailed concept note including team capability to uohbionest@uohyd.ac.in on (or) before 28th Feb 2022
Webinar on Innovation, Entrepreneurship & Opportunities in UoH and India
Joint coordination between directors of ASPIRE and founders of Vivalyf Innovations. Talk by Prof. P Reddanna (Director ASPIRE)
Perspectives on writing a winning BIG grant

This session in collaboration with BIG associate and ecosystem partners will provide an overview of the BIG scheme, and also provide insights into writing a good grant with the help of the SINE BIG team and an experienced BIG reviewer and start-up mentor.